When we made the big move to Tennessee in January, we packed up our necessities and essentials to move in with the in-laws while we house hunted. Needless to say, I couldn't pack up each and every item in my closet and bathroom, so I just packed my favorites.
Well - these items below have definitely been my go-to products for the past few months, and things that I've been reaching for on an almost daily basis. Sometimes it feels nice to live a little more simply! For example: just using
one
drawer full of bathroom/beauty products...instead of my
fifteen
drawers back home! ;)
Now that spring is here, I like to have a little color on my face/body! This self-tanner is super easy to apply and the color is great and natural looking. I love the
St.Tropez
mousse as well, but this one is a fraction of the price, and a really good option as well! Highly recommend this. I picked mine up at Ulta.
This is a tried and true favorite. I even wore this on our honeymoon EIGHT years ago! I have been through many a bottle of this color, and I love it for both fingers and toes. A perfect milky, creamy baby pink. I find myself wearing this color for the majority of the spring and summer months. And I almost always get stopped while I'm out and about, complimenting the color! Always a good thing ;)
Pond's Evening Sooth Face Wipes
Sometimes
Most of the time, I am too exhausted at night to do an entire night-time routine of washing my face, toning my face, exfoliating, putting on a serum, moisturizing, and then topping it off with a face/eye mask duo. Nope. It's just not happening in this stage of life for me right now.
I love face wipes for those nights where I just want to remove my makeup, and feel like I can hop into bed with a cleansed and fresh face. These are the answer. I've tried a bunch, and I keep coming back to these!
Great for travel too.
Covergirl Super Sizer Mascara
This mascara makes all my eyelash dreams come true. It it so easy to apply, the wand is flexible to get those inner and outer lashes without smearing mascara all over your eyelids. It gives crazy length and volume, more than I think I've ever found in a mascara! Which says a lot. Covergirl even claims that it gives your 400% more fullness and volume to your lashes! Quite a promise, but I would have to agree! An amazing drugstore mascara that I would definitely recommend.
I have been on the hunt for some cute flats for spring and summer. Espadrilles have always caught my eye, and I loved these TB ones, but I didn't want to pay so much for shoes made of canvas and rope :/ So when I saw these shoes on
Poshmark
recently, I just had to scoop them up! I got them for 1/3 of the price, and they were in great condition. They just needed a little shoe glue for a part of the sole... and thanks to my father-in-law they were as good as new in no time! I find myself slipping these babies on all the time - with boyfriend jeans, shorts, and casual knit dresses.
Similar espadrilles
here
.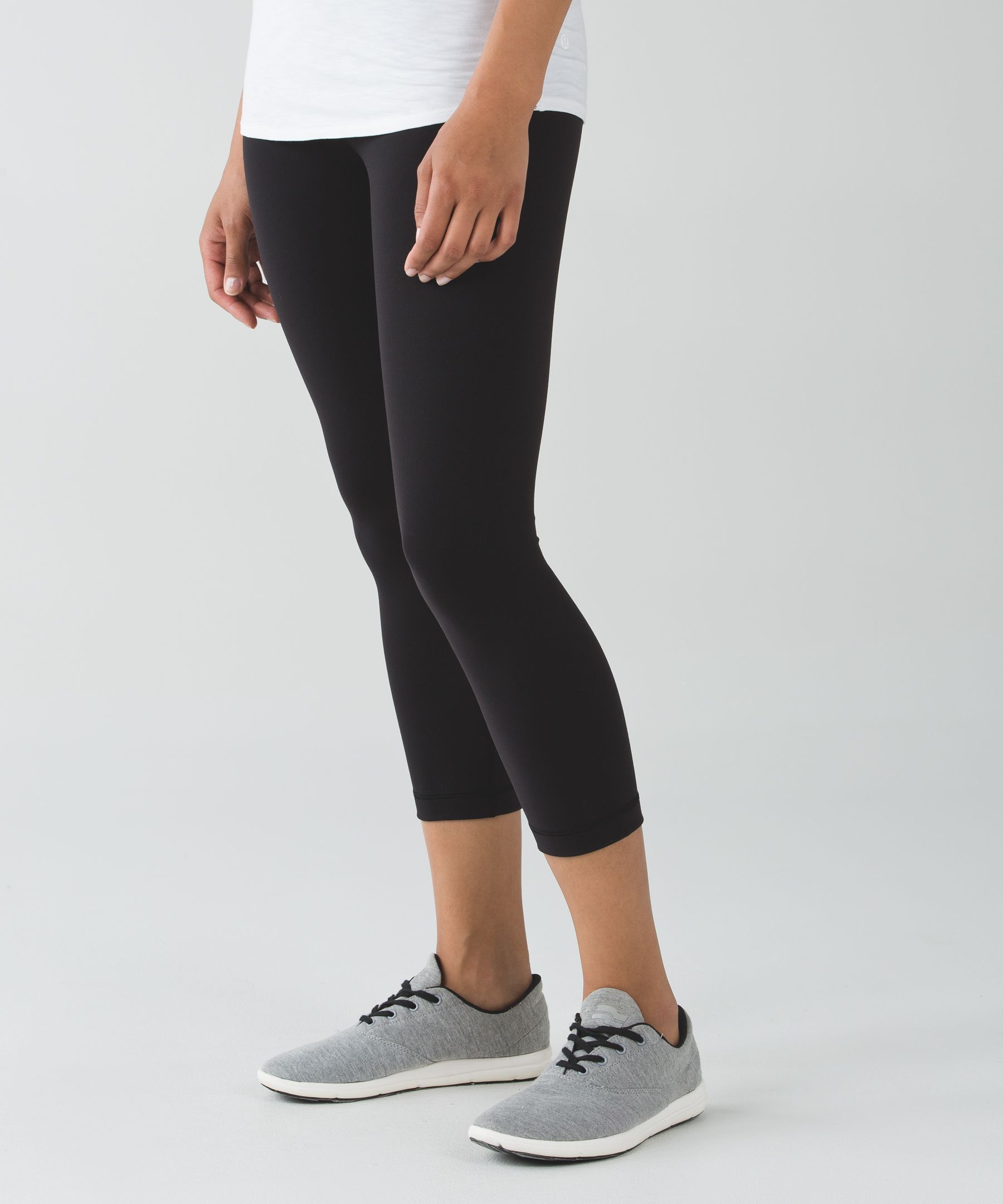 Lululemon Wunder Under Crops
These amazing pants had to be included in my current favorites because I wear them almost EVERY single day. They are the most comfortable leggings I have ever worn. The thick fabric compresses your legs and bottom, so you feel great and know that they aren't going to budge at all. The high-times version is great for those who want more tummy compression. I love these for working out and for running errands. And for lounging. And eating. And sleeping. And just everything. They are pricey, but I have had mine for
years
and the quality just can't be beat.
You won't regret this purchase!
Suave Keratin Infusion Smoothing Shampoo (and Conditioner)
I've recently been complimented on my hair lately! How healthy and shiny it looks - which is hard to believe since it's highlighted and hasn't been cut in ohhhh, 4 months. I have to attribute my shiny and smooth strands to this shampoo and conditioner duo which I (and John!) have been using for several years now. It's less than $3 a bottle, and I find it compares just as well to salon and high-end brands. My hair is SO soft, shiny, manageable, and smooth after using the *Keratin* line, but there are several lines for different needs.
That's it! Those are my current faves!
Any items you think you want to try?
Happy FRIDAY!!