Happy May!!
Wanted to hop on and share some of the things I've been loving over the past month!
There's a mix of hair, beauty, TV, food, and clothing, so take your pick!
I have heard lots of good things about this masque, so I picked up the smaller size of this at Ulta. I am in love! A little goes a long way, and it leaves my hair feeling SO soft, luxurious, easy to manage, and tangle free! I tend to use cleanse my hair just 2-3 times a week, so I usually use this each time.
I have been a fan of this product for awhile now, and I love both the concealer, AND the brightener. I've been wearing it every day (when I wear makeup), and it really helps with dark circles, and brightens the eyes so much. This is a staple beauty product for me, that I will definitely be repurchasing over and over! (And it's cheap!)
Well this ain't cheap, but it is pretty amazing. Over the last year, I've been actually taking care of my brows and filling them in (they're pretty light), and it makes SUCH a difference! Who knew?
I used a MAC powder for awhile, but was introduced to this recently, and it's changed everything. The tinted wax is soooo thin and easy to use, and provides a natural and lasting look. It has a spoolie too, which helps shape them perfectly.
I live in these babies. They are SO beyond comfortable and cute too. They work for nursing because you can just pull them to the side. I used to just sleep in them, but now I wear them all the time with tshirts and tanks. VS runs sales on them all the time - try one next time!
Another item I've been living in the past month are these drapey tees from Target. I have them in the white and gray, but they also have them in many other colors. They are SO comfortable and have that kind of heathered/worn look to them which I love. They are long too, and the V is not too low - just perfect. And they are only $12! I wear my white one at least 3x a week :)
I got these earrings last year for my birthday, and they are such an easy and classic pick for me! I tend to pair them with everything, and they are not too fussy. They look good with a tshirt and jeans, or even a fancy dress or outfit! Love these!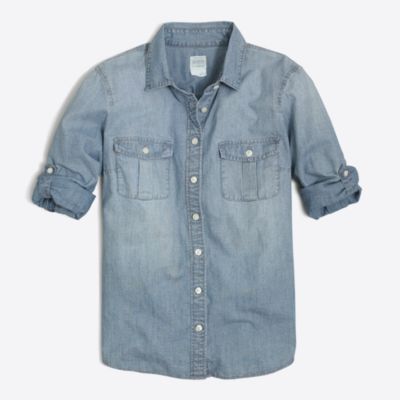 These are my fave, and now that I can actually button mine again, they have been my go-to shirt for casual or cute occasions. I pair it with
these
(in Lime) for running errands or a lunch date, and then at night with skinny jeans and wedges, or a feminine skirt like
this
or
this
.
Y'all, this show. So good! I just started Season 1 on Netflix, and I am flying through! It is a real and raw show, navigating through one families ups and downs, complex relationships, and love for each other. The character development is so good, and I find myself laughing AND crying during EACH episode. Highly recommend!
This recipe has been a favorite, and I think I made it every single week this month! Easy and delicious and tastes just like takeout :) I usually make brown rice and roasted broccoli to pair it with. Yum!
Had to throw in a "Mommy" favorite! These bamboo swaddle blankets are incredible! The softest and lightest blankets ever and perfect for these warmer months ahead. We use them for everything -covering the car seat, wrapping in swaddles, laying on the floor or crib, and I swear I'm gonna wear it as a scarf one of these days :) They are that cute!
Those are my faves of the month!!
Anything you've been loving??