Today I'm linking up with
Natalie
and
Annie
, for "Thoughts for Thursday"! I love this post, because it's just so easy to write about random things on my mind! :)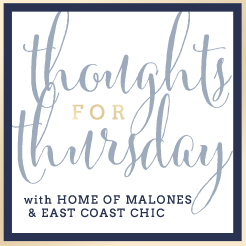 So without further adieu,
I saw these boots on Instagram this week, and I think I'm in love! (And how darn cute is this pic?!) I found out that they were Uggs, and I immediately put them on my Christmas wish list. I definitely have been known to rock some classic Uggs in my day (sometimes comfort beats style), but I thought these were really cute! And more "grown up". What do y'all think?
2. Personalized Bar Necklace
A dear family friend of ours recently sent me a sweet card in the mail along with a generous gift card as a baby gift. She wanted me to use it for something for myself, to remind me of our new addition to the family. I decided on a personalized bar necklace (I've loved them for awhile), and I can't wait to get mine in the mail. I ended up getting both "Andrew" and "Ellie" (have I mentioned baby girl's name yet? It's Ellie!) on the necklace, because I thought that would be extra sweet.
I chose the one with the 2 names and the heart in the middle - It's the 13th one from the top.
We took Andrew on a tour of the local fire station this week, and he was in heaven. All he wanted to do was sit in the fire truck seat and explore the "cuck". It was really fun for him - I hate that I'm not going to be able to as many new and interesting activities with him once the baby arrives, so I'm trying to do as much as I can now!
It's here! And it's glorious. I absolutely love the weather in the Northeast this time of year. Something I never got to experience growing up in the south. These cooler temperatures are just so pleasant and we have been having outdoor adventures and walks almost on the daily.
And of course it's time to start drinking my favorite fall drinks!
1. Iced Chai Tea Lattes
2. Iced Coffee with 1 pump Vanilla, 1 pump Pumpkin.
5. Fall Food and Fun
Speaking of cooler temperatures, it's finally acceptable to start making my favorite soup recipes for dinner! John actually made this Beef and Vegetable soup this weekend and it is absolutely delicious, the picture really doesn't do it justice! (How do you photograph soup!?)
Homemade Vegetable Soup
Combine:
3 qts. boiling water
uncooked lean soup meat/
stew
meat cubed- any amount usually 1 pkg. ( I trim the fat off)
2 pkgs. dried onion soup mix
Let boil 25-30 min and then add:
1 lb. can tomato sauce
1 lb. can diced tomatoes
1 canned corn
1 1/2 t. marjoram leaves
1 1/2 t. basil leaves
1 1/2 t. pepper
1t. garlic powder
1T. salt
2 bay leaves
1 1/2t. parsley flakes
Let this cook 15 minutes. Then add:
1 large bag frozen mixed vegetables
1 box frozen cut okra
Let all this cook covered for 2-2 1/2 hours. Sprinkle parmesan cheese on top to serve.
Serves 10.
We had Pumpkin Day at Church on Sunday and Andrew had so much fun picking out a pumpkin to "paint". We didn't actually let him paint (is that terrible of us?), but he was perfectly content putting the clean brushes on the pumpkin! Afterward, we played at the park, and enjoyed another beautiful fall day.
Hope y'all are having a wonderful week!
I'm headed out to my 37 week OB appointment now! YAY!