Hi Y'all! Today, I'm so excited to co-host and link up with
Annie
and
Nat
today, for
Thoughts for Thursday!
What a perfect opportunity to share a few things going on in this ole head of mine ;)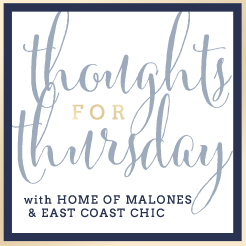 I have to admit, the first
thought
I had today when I woke up was....
TGIF! It's the weekend!
And then I remembered it was Thursday.
But it's OK! We have a fun day planned today!!
- I just joined a Princeton Mommy Group this past week, and we already have our third event of the week! Today is an afternoon picnic at the pool :) It's so nice to have a community of Moms with babies - after being home in Florida last week, I've really been missing my family and friends.
Hoping this group will provide some support and lots of fun activities for us!
- We are about to book a trip to the Poconos for Labor Day weekend! Our parents will be joining us, and I am so looking forward to a week in the mountains. On the agenda: kayaking, horse back riding, hiking, grilling out, and board games - the perfect "end of summer" trip!
- I just added a couple summer/early fall pieces to my wardrobe this week!
Both were on sale - and I think will be great transition pieces, especially the dress!
Old Navy Shift Dress
(will wear now with flip flops and a fedora.....later with a jean jacket and booties!)
J.Crew Pom Pom Top
(I've had my eye on this top all summer, and finally scooped it up after it was marked down. Will wear now with cut-off jean shorts and sandals.....later with skinny jeans and a faux leather jacket!)
- Still working on my blog posts from our Florida trip! I have so many pictures to go through!
Here is one of my favorites of me and my little man :) Cannot believe he is 7 months old!
- Speaking of 7 months old....I
know
his 1 year birthday is just going to sneak up on me, especially because it's right in the middle of the Christmas holiday (December 23)! Any advice on how to celebrate a winter/holiday baby's birthday?? I've heard of doing 1/2 birthday parties, or just celebrating them early or late....and
no
Christmas wrapping paper for his gifts! ;)
- I have to share this video clip with y'all. My hubby and I went to college with Jay and Katherine, and they have been great friends to us over the years. Their story is not only inspirational, but also one full of hope and faith - take a moment to watch!
Hope y'all have a wonderful day! And don't forget to link up below!