1. Fall Weather
How amazing is this weather?! Here in the Northeast (still can't believe I live here!), the cooler temperatures are here to stay, and I'm loving it. Leaves are changing colors, falling from the trees, and the scarves and boots are on :)
{morning walks around downtown Princeton}
pics via Instagram- emily8463
My new wool floppy hat! Found it at Marshalls for just $14.99!
And this fashionista from
Pinterest
(it kind of looks like
Megan
to me!) inspired an recent outfit of mine!
Mustard tunic, black leggings, and a faux fur vest! LOVE!
More mustard and faux fur, you ask??
Ok, fine.
I got this fun Zara vest from a consignment store with the tags still on :) Originally $79 and got it for $24! And I found these dark greek skinnies at H&M for only $12.95! They have tons more colors too.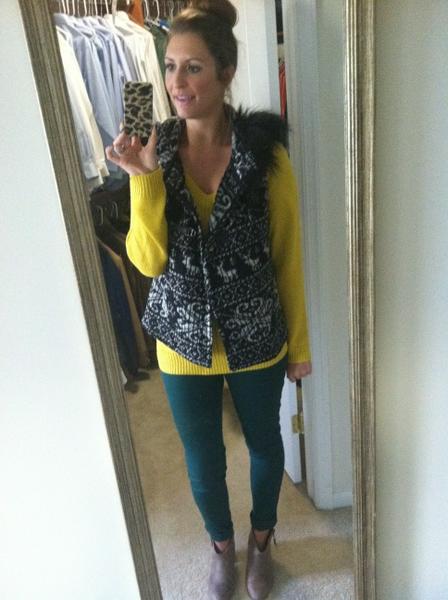 I tweeted this outfit pic and one of my FAVORITE
fashionistas
tweeted me back!
Day. Made.
— Courtney Kerr (@thecourtneykerr)
My parents drove through last weekend for a quick visit and we spent the afternoon in Philadelphia - exploring, shopping, and eating! We had the BEST philly cheese-steaks and Ruben sandwiches at the Reading Terminal Market!
I had one of my best weeks of recipes last week - every meal was a HUGE hit with me and the hubs. Here a few of the highlights :)
Chicken Lettuce Wraps
(recipe to come!)
I've recently scored a few lovely treats from Tar-jay!
This bright pink pullover has been a part of my
weekly
daily wardrobe. I am so impressed with the quality and material of it - it reminds me so much of the
Lululemon
pullovers.
Eeeeek - I'm so excited about these leather boots from Target! I just ordered them yesterday, so I haven't received them yet. But they are modeled after the
Frye Harness boots
, and I am a huge fan! I believe they are only on the website, but at $60, shipping is free :)
What have been your highlights of the week??
XOXO