I haven't been shopping a ton this summer for beauty and makeup, because I tend to go pretty minimal in this warm weather. But I have picked up a few things, and I wanted to share my absolute favorites with you! I used these products for the entire month of July (and June too!)
Enjoy!! :)
I actually got this paint pot last summer, and have recently rediscovered it in my collection!
It is the most gorgeous glowy rose-gold color and I have been loving it lately!
Wear alone with some liner and mascara, or wear it has a base under a similar shadow color- either way you will fall in love!!
The prettiest shade of bubble gum pink! Creamy and girly, and looks great with a little tan!
LOVE this cool-toned color and have been re-painting my nails all month with it.
I do love my tried and true
tinted moisturizer
, but for days when I want/need a little more coverage, I have been reaching for this foundation. It is light and airy, but gives good coverage and feels like you are not wearing foundation. When I want a little luminosity to my skin, I'll just add a pump of
this
in with it before applying to my face.
"Speak Your Mind"
If you have already clicked on the link above, you might have already gasped aloud at the $18 price tag on this lipstick. But I'm telling you, it came highly recommended to me, and here I am, highly recommending it to you! It is creamy, luxurious, and the most perfect shade of nudey pink. It reminds me of MAC lipsticks, but I do like it better. I LOVE IT. (I probably won't purchase any more colors, because it is pricey, but also because I find this shade is perfection.) Use an Ulta coupon and go get you this lipstick!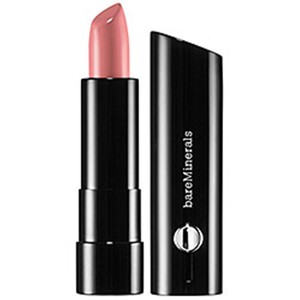 "Eclair and Apple Strudel"
Let's talk about the perfect lipgloss. Creamy, great color, feels like butter, not sticky, and smells like cake. Well - I found it! These butter glosses are incredible and I picked up these two colors recently at Ulta, when they were having a "buy 1 get one 1/2 off" sale. And now I want every color. Love pairing them on top of lipsticks (the Eclair looks great over the Bare Minerals lipstick), or on their own too! They have just enough pigment and creaminess to hold their own and last too!
And now, to take all this make up off!!!
........
I am a big fan of makeup remover wipes, I just love how refreshed and clean my skin feels after using them! I picked these up randomly this month, and will definitely be repurchasing!
They have the perfect amount of saturation, and remove makeup like a dream. No pulling or scrubbing to get that mascara off, these are so easy to use, and they leave my skin feeling amazing.
Hope you will check some of these items out - you will not be disappointed! And please let me know if you have specific questions about the products via comments or by emailing me!
emilysadlow@gmail.com