Happy October! My favorite month of the year!
This is our third fall living in the Northeast, and I just absolutely love this season. After living in Florida all my life, I never truly got to experience a real "fall", and I'm so happy to finally have one!
(now Winter is a different story....)
So now that September has come and gone, it's time for my monthly favorites!
First up...
Ponds Cold Cream Cleanser
- After reading that this cleanser was one of the most gentle, yet effective ones on the market, I knew I had to try it out. I LOVE the creamy texture and the way it deeply cleans, but also deeply moisturizes my skin.
Revlon Lipstick in "Berry Haute"
- I love this shade for the fall. It's a pretty plum/berry shade that's not too
vampy.
Perfect for those of you who don't want to be too bold, but are ready for a darker shade this season.
Tarte Cheek Stain in "Exposed"
- I recently
blogged
about this, and have been wearing it every day since. It's a great neutral pink that would look pretty on all skin tones. I use it with a stippling brush and it lasts all day.
The Balm "Mary Lou Manizer"
- I scooped this up on
Hautelook
recently, and it is my new favorite highlighter (and eye shadow!) It's a gorgeous golden honey color that gives the perfect glow to your cheek or eyes. (and a little goes a long way - this stuff will last forever!)
(wearing all beauty products mentioned above!)
Suave Keratin Infusion Shampoo and Conditioner
- I love trying out different shampoos and conditioners, and I have been using these for the past 2 months. I hardly ever re-purchase the same ones twice, but these will be an exception! They leave my hair so soft and silky, take away the frizz, and I find my hair is much easier to style after using these products. Highly recommend!
JEWELRY FAVES
J.Crew Stud Earrings
- First of all, these are like $6 right now. I wear them everyday. With everything. Perfectly dainty and feminine, but not too flashy.
Style This Life Necklace
- You may have seen me
post
about this necklace which I found on Etsy recently. I absolutely love it, and have been wearing the heck out of it! It's so simple, but completely makes an outfit!
**And tomorrow, one of you can
win one
! That's right, I'm doing a giveaway on my blog, so come on back to make one of these necklaces your very OWN!**
FOOD FAVES
Trader Joe's Powerberries - An all-time favorite of mine that I recently rediscovered. If you live near a TJ's, you have got to pick these up! So delicious, chocolatey, and filled with a yummy berry center.
Chobani Greek Yogurt "Key Lime Crumble" -
Jayme
introduced me to these guys, and y'all...I am addicted! It actually took me a few tries to fall in love, but we are now engaged and planning a spring wedding. Seriously though, these taste like key lime pie, and have little crumbles of graham crackers and white chocolate chips to add into the yogurt, which makes it oh-so-decadent. And it's totally healthy, because it's
greek yogurt.
Right? ;)
I have to give a quick shout out to Andrew's two grandmothers here, because they BOTH created these
books
for him. They are the books where you can record your own voice to read aloud the pages to your children/grandchildren/special littles in your life. Andrew absolutely loves these, and it is a great way for him to hear his grandmothers (that live far away) on a daily basis! (Thank you Mimi and Gigi!)
I'm linking up with
Mia
today, so hop on over to her blog for more monthly favorites!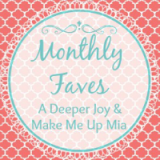 Did you have any favorites this month? Any of mine you are wanting to check out?